LOCATION
Tahiti is only 7-1/2 hours non -stop flying time from Los Angeles. French Polynesia lies in the South Pacific between Australia and North America. It is in the same time zone as Hawaii and is about the same distance below the equator as Hawaii is above it.
ENTRY REQUIREMENTS
U.S. and Canadian citizens need a passport valid 6 months after your return date. If your passport is other than U.S. or Canadian, check with the French Consulate. No immunization certificates are required. It is solely the passenger's responsibility to ensure that all documents needed are complete and current.
CLIMATE
Cooled by the gentle breezes of the Pacific, the weather in Tahiti is sunny and pleasant with a yearly average temperature of 79 degrees F. Roughly speaking, there are two seasons: warmer and humid are the months that span November through May while June through October bring a cooler and drier climate. Most of the rain falls during the warmer season, however there will be showers in the drier season and lots of sunshine in the humid season.
CLOTHING
Tahiti is very informal. Lightweight, natural fabrics such as cotton will serve well. Men will be comfortable in shorts, slacks for dinner, sport shirts and sandals, while ladies may wear shorts, skirts and sundresses. We also recommend taking along a couple of swimsuits each, rubber-soled shoes for reef walking, hat or sun visor, sunglasses, sunscreen, insect repellent, and a waterproof bag to protect camera equipment.

CURRENCY AND EXCHANGE
The Pacific French franc (CFP) is the currency used in French Polynesia. It is different from the French franc. Banks are located at Tahiti's International Airport and on each island. Hotels also exchange money but tend to give a less favorable rate than banks. Most major credit cards are accepted in Tahiti.
NO TIPPING AND NO TAXES
Tipping is not customary, Polynesian hospitality simply does not allow it. Through out French Polynesia there are no sales taxes or service charges. Consider these savings when comparing Tahiti with other destinations.
LANGUAGE
French and Tahitian are the official languages. English is spoken in hotels and in most shops and restaurants, so communication is rarely a problem. Tahitians truly appreciate visitors who try to learn a few of their words. They enjoy helping and you can expect a broad grin or hearty laugh as they teach and you try.
HEALTH
French Polynesia enjoys a high standard of health, with excellent medical and dental facilities. The tropical sun can be deceptively penetrating, so be sure to use a good, waterproof sunblock to protect your skin from overexposure. The water is generally safe to drink however; we suggest bottled water available through the hotels. Medications, even aspirin, should be brought from home, as pharmacies are not always convenient to hotels.
ELECTRICITY
The electrical voltage is 220v in Tahiti. Most hotels have 110v outlets for electric razors. A converter/adapter kit will generally be needed for other appliances made with the U.S. standard of 120v.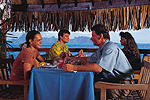 DINING
You will discover a palate-pleasing variety of native dishes, Chinese, French and American cuisine. You will delight in the abundance of seafood, tropical fruits and fresh vegetables. You can eat at fine restaurants or outdoor cafes, partake of Polynesian feasts and beach barbecues. There are few restaurants on the outer islands other than those within the hotels. Meal plans are available prior to the start of your trip and will generally represent cost savings. Meal prices are comparable to those at better restaurants in other resort destinations. Most restaurants have a la carte menus so that you will not have to order a complete meal if all you want is a salad. A package that includes meals represents a value. However, if a package does not include meals, my suggestion is to leave some days open so you can venture out from your hotel and experience other island restaurants. Pre-purchasing meal plans not included in a package represents more of a convenience than a savings.
SCUBA DIVING
Diving in French Polynesia is colorful, varied, and among the best anywhere. You will encounter a myriad of colorful reef fish, moray eels, turtles, even manta rays and sharks. The translucent waters are warm (80° and above) and clear (100 foot visibility) and full of colorful, exciting marine life...no matter which island you choose to explore. Moorea specializes in hand-feeding sharks and dives with rays and dolphins, along with a variety of reef fish and low-growing corals. Bora Bora generally offers beautiful, graceful manta rays in its plankton-rich multi-hued lagoon. Huahine and Raiatea offer more brilliant displays of coral ledges and cliffs, along with varieties of colorful reef fish. However, it is the Tuamotu atolls of Rangiroa and Manihi where more experienced divers will enjoy the fullest diversity of marine life, with dives starting along the outer reefs, drifting through the passes, and into the lagoons. It is high excitement diving with black-tip and white-tip sharks everywhere and occasionally silver-tip or hammerhead.

SHOPPING
Black pearls, hand-blocked fabrics, exquisitely carved bowls, drums, tikis, local shell craft, baskets, dance costumes and vanilla beans can all be purchased in the markets and shops of Tahiti. French imports such as perfumes, are available in duty free shops. Stores are normally closed daily for a long lunch, on Saturday afternoon and all day Sunday.
TELEPHONE
Direct dialing for local and international telephone calls is easy in French Polynesia, whether calling from your hotel or from the public phone booths. Most of the public telephones can be operated with phone cards, which can be purchased in various denominations at the post office, convenient stores and airports.
CHURCHES
Religion is very important to the Tahitian people. The church, whether Protestant or Roman Catholic, is the center of activity in all villages. Attend a Sunday service, you will find the Tahitians' singing to be beautiful and moving. Guests are certainly welcome in places of worship as long as they adhere to the usual decorum: men should wear long pants and shirts, and women should wear subdued dresses.
WEDDING CEREMONIES*
A traditional Tahitian wedding ceremony for many is a dream come true. There is not a more romantic way to exchange or renew personal vows. You may choose from several locations with in the islands and ceremonies range from simple to lavish. *Weddings are not legal ceremonies. Couples intending to marry legally can do so before arriving in Tahiti, then exchange promises in one of the traditional ceremonies. Check out our Wedding ceremonies.
The most beautiful islands in the world
Officially known as French Polynesia, Tahiti and her islands are sprinkled over one and half million square miles of ocean in the South Pacific. The total land area of the 118 islands and atolls adds up to 1,544 square miles and consists of five archipelagoes: the Society Islands, Austral Islands, Marquesas Islands, Tuamotu Atolls and the Gambier Islands.
The SOCIETY ISLANDS
are the main tourist destinations in French Polynesia. They are divided into the Windward Islands and the Leeward Islands. The Windward Islands include the high islands of Tahiti and Moorea, plus the coral atoll of Tetiaroa. The Leeward Islands are made up of Huahine, Raiatea, Tahaa, Bora Bora and Maupiti.
The TUAMOTU ARCHIPELAGO
is located approximately 200 miles northeast of Tahiti and is the largest collection of coral atolls in the world. It is made up of 83 atolls that are ring shaped coral islands encircling a lagoon. In the early seventies, pearl farms in the Tuamotus began to produce the black pearl, a jewel that has since become the symbol of French Polynesia. Rangiroa, Manihi, Tikehau and Fakarava are the main tourist destinations in this archipelago.
The AUSTRAL ARCHIPELAGO
consists of 5 high islands that lie on both sides of the Tropic of Capricorn, extending in a northwest-southeasterly direction across 794 miles of ocean. Steep cliffs rise dramatically from the sea with few white sandy beaches. This group of islands, like the Marquesas, is renowned for its original art, carved wooden objects and basketwork which is exported to Papeete.
The MARQUESAS ARCHIPELAGO
consists of 6 inhabited islands and 6 smaller unpopulated islands. They are divided into two distinct groups about 60 miles apart. In the northern group is the island of Nuku Hiva that is the administrative and economic center. Also in this group are Ua Huka and Ua Pou. In the southern group are Hiva Oa, Tahuata and Fatu Hiva.
The GAMBIER ARCHIPELAGO
Also known as the Mangareva Group, is 1,057 miles southeast of Tahiti. The climate in these southern latitudes is very mild, with cooler temperatures than Tahiti. The Gambier Islands are the cradle of Catholicism in French Polynesia, as the first missionaries arrived here in 1834. These islands, once inhabited by several thousand people, are now almost deserted today.