For today's traveler, simplicity and solitude are the rarest of luxuries.
On Raiatea you can set yourself free to explore
the diversity of people, culture and marine life
Raiatea
Hawaiki Nui Hotel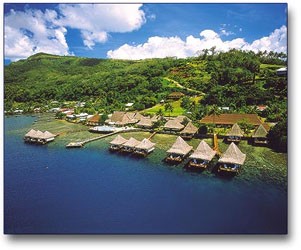 Situated on the fringe of a magnificent lagoon in Tepua Bay, the Hawaiki Nui Hotel is a cozy, intimate hideaway with only 32 rooms. Guests will appreciate the accommodations; with choices of 9 overwater bungalows, 3 lagoonfront bungalows, 12 garden bungalows and 8 gardenside lanai rooms. The hotel is just one mile from the principal city of Uturoa. The restaurant, reputed to be the finest on the island, overlooks the swimming pool, which fronts the lagoon. A diver's paradise, more than 50 dive sights are nearby including a 57-ton schooner that sank in 1900 directly in front of the resort. Activities available include snorkeling, outrigger canoe excursions, horseback riding, marae excursions and jeep safaris. For the more adventurous, try an escorted hike to the top of Mt. Temehani to discover the Tiare Apetahi, a flower that grows nowhere else on earth.
Published Room Rates*: $365 to $530 per night
Taha'a
LeTaha'a Private Island & Spa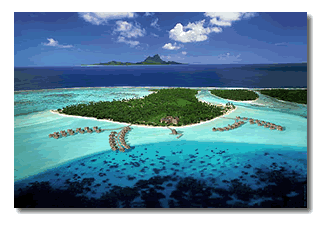 A new Pearl in the Pacific superbly located on Motu Tautau on the coral reef, the resort faces the island of Taha'a on the lagoon side and offers an unsurpassed view of Bora Bora on the ocean side. This traditional Polynesian style hotel is 5 minutes by private boat from the main island of Taha'a and offers 48 Overwater Suites and 12 Beach Suite. Private patio and tropical garden, private swimming pool (Beach Suites), spacious lounge and terrace, private deck with direct access to the lagoon (Overwater Bungalows), ceiling fan, air-conditioning, coffee/tea making facilities, mini bar, hair dryer, safety deposit box, television, telephone, DVD & CD player. The public areas are in locations providing exquisite views to the lagoon and Taha'a Island. 3 restaurants, one adjacent to the pool and beach, the other 2 in the heart of the resort among the trees. There are two ways to reach the hotel - 30 minute boat transfer from the airport on Raiatea or a 15 minute helicopter flight directly from the Bora Bora Airport to the hotel's helipad. The Taha'a Pearl Beach Resort & Spa is the ultimate, exclusive hideaway.
Published Room Rates*: $1089 to $2030 per night
Vahine Island Resort Remote Polynesian Hideaway


Located on a private, 10-acre island in the Tahaa lagoon, the Vahine Island Resort is in an indescribably romantic and secluded setting with panoramic views of the nearby islands of Tahaa, Raiatea, Bora Bora and Huahine. This resort caters to a small number of discriminating guests looking for the ultimate escape. This special hotel has only 3 overwater bungalows and 6 beachfront bungalows hidden among the coco palms. The beachfront restaurant and lounge offer a fine mix of local seafood fare and French cuisine. Windsurfing, snorkeling and outrigger canoes are complimentary. Or you can rent the hotel's jet ski or a small dingy with an outboard and pack a picnic lunch and explore a nearby deserted motu. The hotel is reached by a 35-minute boat ride from the airport on Raiatea.
Published Room Rates*: $630 to $880 per night