Tahiti resorts and hotels are a key element to your travel package. Hotels give highly discounted rates to tour operators. In selecting a package, you benefit from these special prices!
Overwater bungalows, open-air seaside dinning and no building
higher than the tallest palm tree. French Polynesian hotels offer you
the most intimate and authentic South Seas ambiance.
And, remember with eTravelBound
you always play less than published room rates.
Click to Enlarge Image
Inter-Continental Resort Tahiti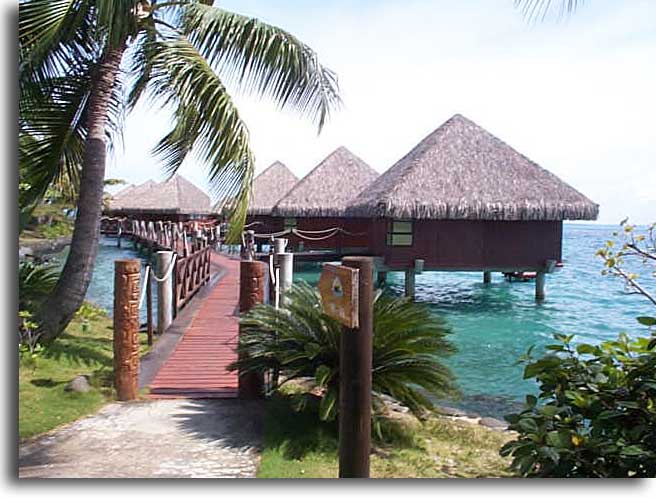 This world-class hotel overlooks a blue lagoon and commands an impressive view of the island of Moorea. Its 271 air-conditioned rooms and elegant overwater bungalows are situated within 35 acres of tropical gardens and located 1.5 miles west of the airport. Rooms have tea/coffee making facilities, mini bar, telephone, TV, hairdryer, in-room safe and private balcony overlooking the breathtaking scenery. Guests will enjoy the new Lagoonarium underwater reserve, two freshwater infinity swimming pools with poolside bars, and two fine restaurants, the Tiare with an exhibition kitchen and terraced dinning, and the overwater gourmet restaurant, Lotus. The Beachcomber is a luxury resort that exudes Polynesian style and hospitality.
Published Room Rates*: $370 to $1135 per night
Le Meridien, Tahiti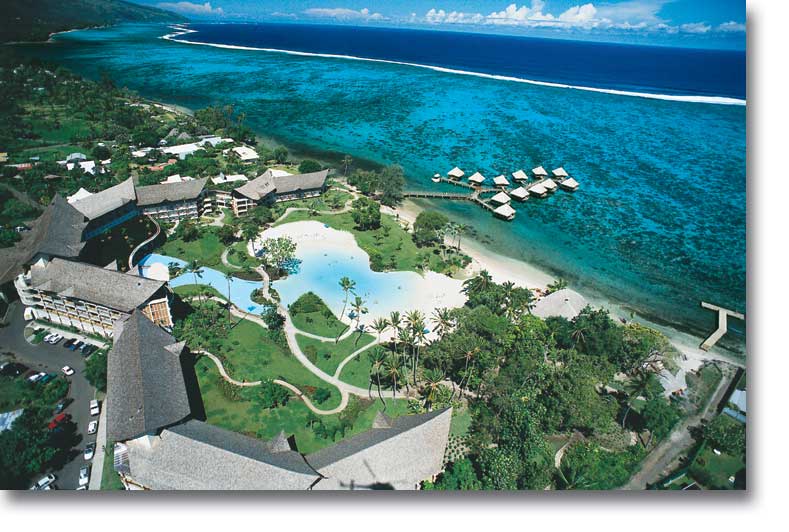 Located on a white sand beach offering stunning lagoon views, facing the sunset and Moorea. The hotel features 150 air-conditioned rooms and overwater bungalows, is 6 miles west of the airport, just 20 minutes from the Atimaono International Golf Coarse and close to the Museum of Tahiti and Her Islands. All rooms are air-conditioned and have tea/coffee making units, mini bar, in-room safe, telephone and TV. The resort has a tennis court, large sand bottom swimming pool and the two restaurants specialize in Polynesian cuisine, seafood and gourmet international dishes. This international-class hotel offers comfort and convenience while capturing its Polynesian heritage.
Published Room Rates*: $490 to $789 per night
Manava Suite Resort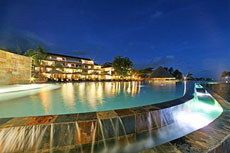 Located on Tahiti's west coast, this modern resort is conveniently located five minutes from Faa'a International airport and ten minutes from the city center. The resort, with its 121 units, offers a range of accommodations, from studios to three-bedroom apartments; most rooms include terace and kitchenette. Amenities iclude overwater restaurant, two bars, Manea Spa and Fitness Center, and the largest infinity pool on Tahiti - facing the island of Moorea.
Published Room Rates*: $189 to $379 per night
Radisson Plaza Resort Tahiti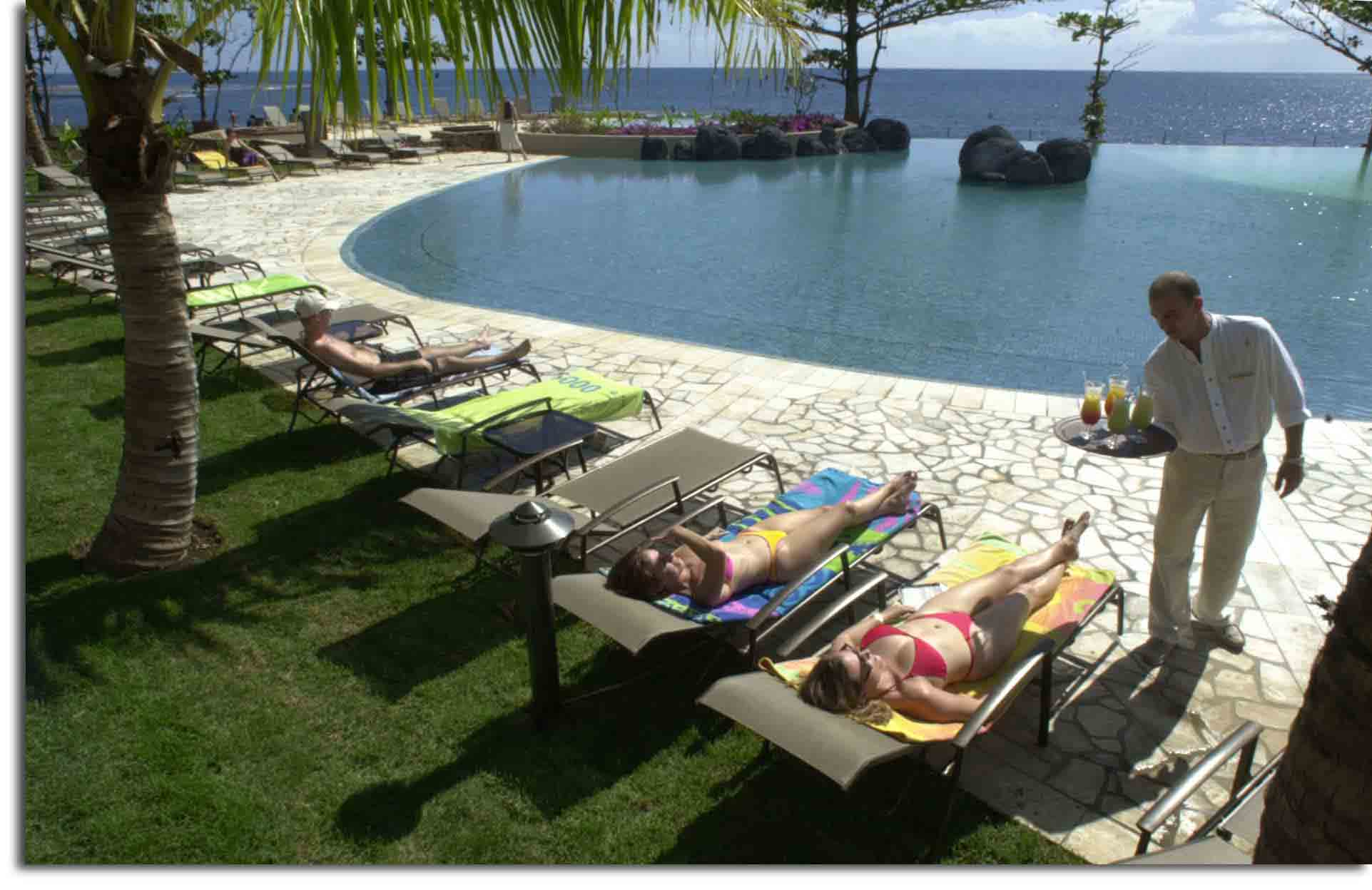 Set amidst a tropical garden landscape on the exotic black sand Lafayette Beach, Radisson Plaza Resort Tahiti is and idyllic retreat. Located just 4 miles from the central business district, the 165 room resort features deluxe air-conditioned rooms and suites featuring large lanai balconies and stunning panoramic views of beautiful Matavai Bay. The rooms, of contemporary design, highlight local artisan handicrafts and colonial period photography. The Hiti Mahana restaurant features innovative cuisine, and the Lafeyette Bar is the perfect place to catch a spectacular sunset. Relax at the freshwater swimming pool and jacuzzi, or indulge at "Le Spa" which offers a full range of traditional Polynesian treatments. State of the art health club. Rooms feature mini-bar, cable TV, hair dryer, personal safe and in room coffee and tea maker.
Published Room Rates*: $470 to $660 per night
Sofitel Tahiti Resort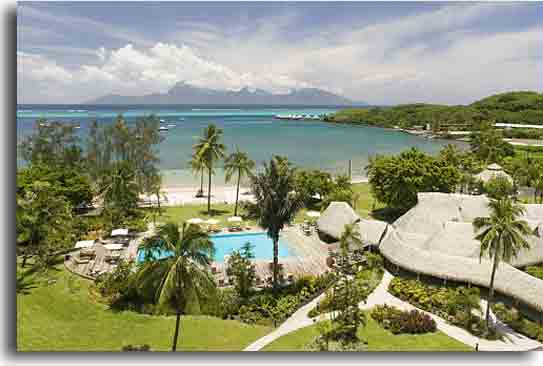 Just minutes from the airport and easily accessible to downtown Papeete via le truck, this beachfront property affords spectacular views of Moorea. Designed like an ancient Polynesian marae (temple), the hotel has 216 air-conditioned rooms, each with private balcony, hair dryer, mini bar and TV. Guests will find on display one of the world's most extensive collections of ancient South Pacific artifacts. The hotel features two restaurants, two bars, shops, tennis courts, a swimming pool, a driving range, a wide range of water sports, and a tour desk.
Published Room Rates*: $189 to $520 per night
or email us at:
info@etravelbound.com
*Pay less than published room rates with eTravelBound!