Bora Bora resorts and hotels are a key element to your travel package.
Hotels give highly discounted rates to tour operators.
In selecting a package, you benefit from these special prices!

This island is truly one of nature's most inspired creations.
To top it off, the island is home to some of Polynesia's most celebrated hotels.
For many visitors, Bora Bora is the ultimate South Seas experience.
Surrounding this small island is the most stunning lagoon in all the Pacific.

Click to Enlarge Image
St Regis Resort
plus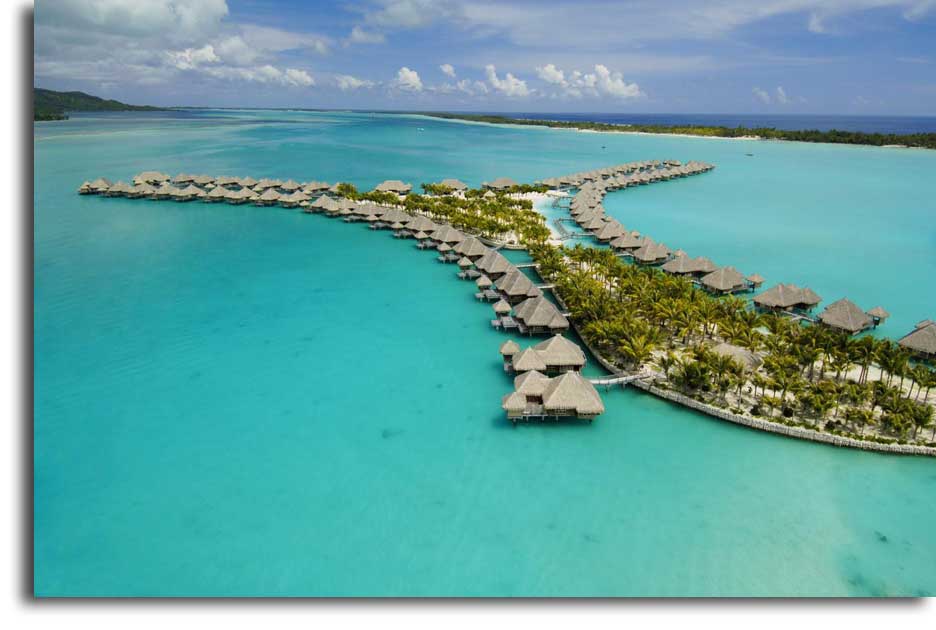 World acclaimed luxury and Polynesian paradise come together at St Regis Bora Bora. Encompassing 44 acres of lush landscaping, edged by powdery sands and a tranquil lagoon, the resort represents the epitome of carefree elegance. The 92 luxury overwater and beach villas are the largest accommodations in the South Pacific. The resort features the St. Regis butlers, three delectable restaurauts, 2 pools, state of the art fitness center and a 12,000 sq ft spa secluded on its own private island.
Published Room Rates*: $1189 to $3145 per night
Four Seasons Resort Bora Bora
plus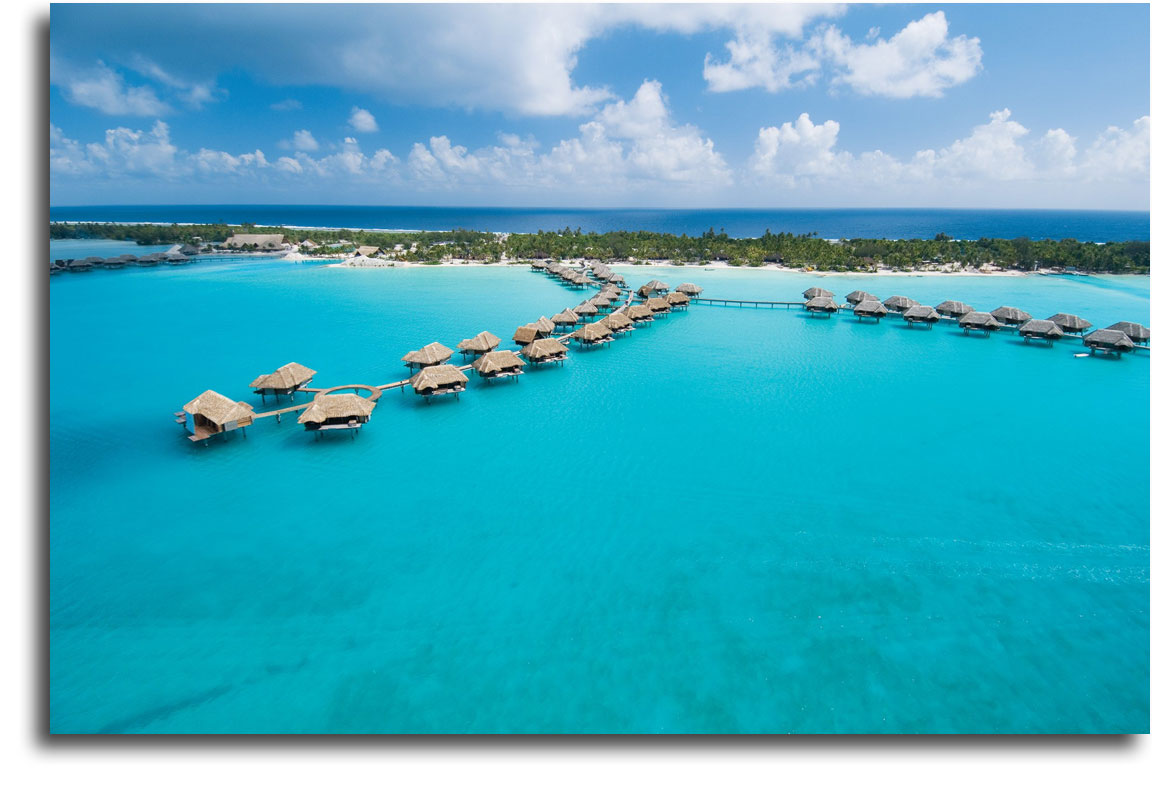 Opening in fall 2008, the Four Seasons Resort Bora Bora brings the renowned elegance and style synonymous with the Four Seasons brand to French Polynesia. Inspired by Polynesian architecture and tropical surroundings, 107 spacious overwater and beachfront villas, some with private pools, are spread over 70 acres of white sand beaches and private lagoons. Rejuvenate at the spa set on the edge of the Pacific Ocean, the spa offers seven treatment rooms - three designed exclusively for couples. State-of-the-art fitness center offers a fully equipped gym and an overwater sunrise yoga platform. Enjoy culinary delight at an all-day restaurant serving Polynesian delicacies, a fine dining establishment, and 2 bars, all offer stunning views of sunsets and starlit skies. To accommodate both families and couples, the resort features the Kids for All Seasons club with a children's pool, and a separate teens' island with a Young Adult Centre and separate beach area. The resort also includes an events pavilion, wedding chapel, black pearl boutique, tennis courts and of course, the highly personalized Four Seasons service standards.
Published Room Rates*: $899 to $4180 per night
Inter-Continental Resort & Thalasso Spa
plus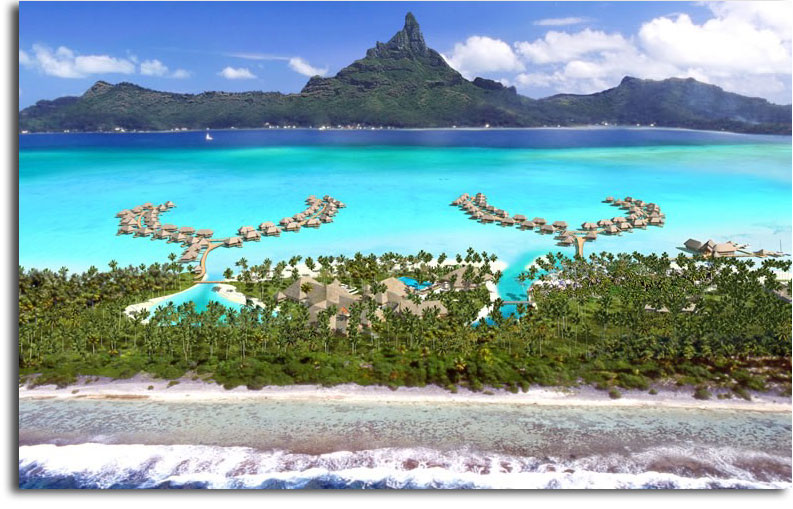 The five star InterContinental Resort & Thalasso Spa Bora Bora is among the most elite spas and resorts of the world. The resort offers 80 spacious overwater villas of more that 1000 square feet, each with incrediable views of Mount Otemanu and Bora Bora's lagoon.

Published Room Rates*: $1235 to $2095 per night

Hilton Bora Bora Nui Resort & Spa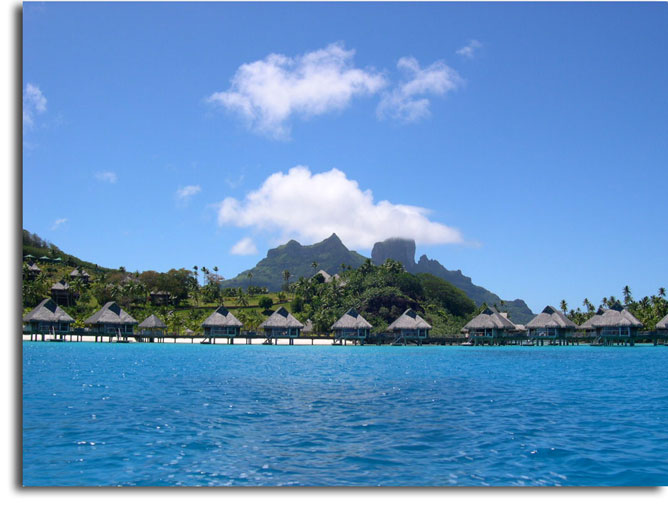 This luxury resort is located on Motu Toopua, an islet in the lagoon across from Bora Bora's main village of Vaitape. The resort features 82 Horizon Overwater Villas, 2 Horizon Overwater Royal Villas, 9 Beach Villas, 10 Horizon View Spa Villas, 1 Hillside Lagoon View Royal Villa, 16 Lagoon View Room Suites. The rooms are luxuriously appointed with natural woods, marble bathrooms and Jacuzzi Spa bathtubs. All suites have air-conditioning, ceiling fans, CD player, TV, in-room safe, mini-bar, coffee/tea maker. The Overwater Bungalows offer glass floor viewing panels. The resort facilities include the spa, fitness center, infinity swimming pool, 2 restaurants and 3 bars, plus 24-hour room service.
Published Room Rates*: $870 to $1805 per night

Le Meridien, Bora Bora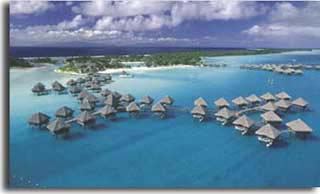 This chic hotel is located on the southern tip of a motu facing the island of Bora Bora and its turquoise blue lagoon. The resort features 98 exclusive air-conditioned Polynesian bungalows- 81 overwater and 17 beachfront. Each is sumptuous in design, with luxury facilities including an open living area, master bedroom, coffee/tea maker, mini bar, TV, in-room safe and terrace. Special features of the overwater bungalow are the bathtub overlooking the lagoon and the clear glass window in the floor, through which guests can enjoy a host of marine life. A restaurant designed like a Tahitian Village, beachside pool, spa and a host of island activities, including the Turtle Care Sanctuary, make for atrue island paradise. This hotel combines international standards of service and comfort with Polynesian hospitality.
Published Room Rates*: $679 to $1485 per night

Bora Bora Pearl Beach Resort & Spa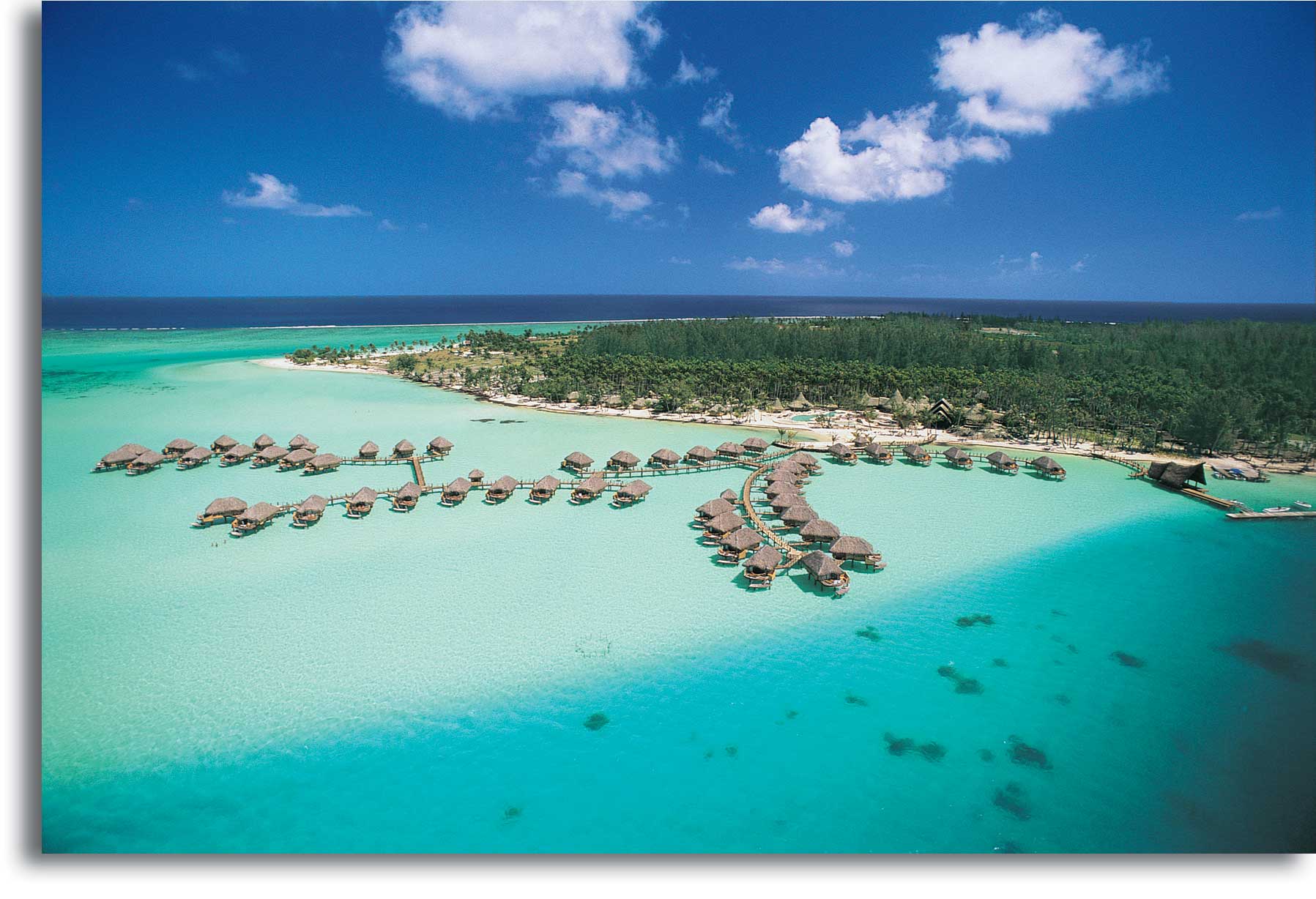 This beautiful resort is located on Motu Te Vairoa offering spectacular views of the main island of Bora Bora. You have a choice of the deluxe overwater bungalows with lagoon viewing glass coffee table or the unique beachfront suites, each with a spa and sundeck in their own private garden. Garden pool suites feature a small private pool within a walled garden with a large deck and covered gazebo. All air-conditioned bungalows have telephone, TV, coffee/tea maker, hair dryer, mini bar and in-room safe. The hotel has a most distinctive swimming pool and spa. Water flows down from the restaurant area into the pool, making for a dramatic view day or night. Complimentary activities include windsurfing, use of snorkel equipment, outrigger canoes, paddleboats, plus frequent boat service is provided between the hotel and the main island for shopping or dining. Manea Spa and Fitness Center.
Published Room Rates*: $720 to $1235 per night

Bora Bora Inter-Continental Le Moana Resort


The Inter-Continental is truly an exotic and romantic retreat reaching out over one of the best white sand beaches in the South Pacific. There are more than 50 beach and overwater bungalow suites, each with a large master bedroom, sitting area, mini bar, coffee/tea maker, hair dryer, in-room safe and private terrace. The overwater bungalows also feature glass-topped coffee tables in the living room for incredible views of the lagoon and its colorful fish. The hotel's gourmet restaurant is superb and guests can take advantage of countless water activities such as snorkeling, canoeing, scuba diving, sailing, windsurfing, sunset and dinner cruises along with romantic motu picnics.
Published Room Rates*: $905 to $1425 per night


Sofitel Bora Bora Marara Beach & Private Island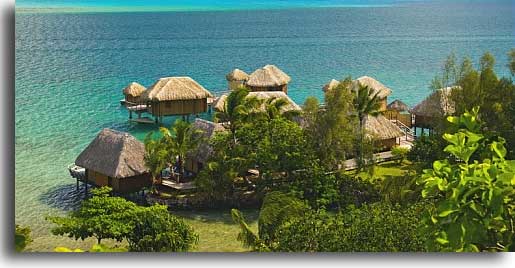 Located on the picturesque Matira Bay, the Marara has 64 air-conditioned thatched-roofed bungalows, each with its own terrace. The garden, beachfront and overwater accommodations combine traditional Tahitian style with French sophistication. The hotel's restaurant overlooks the beautiful lagoon and serves delightful, Tahitian, French and international dishes. Guests may wish to play tennis or volleyball or take part in water activities such as swimming in a freshwater pool, windsurfing or snorkeling. This hotel is known for its friendly and casual Polynesian atmosphere.
Published Room Rates*: $189 to $379 per night

Maitai Polynesia Bora Bora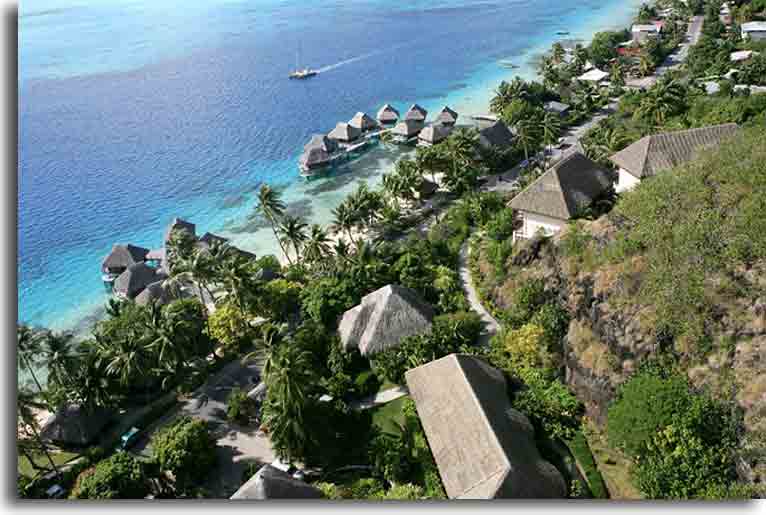 This moderate resort blends perfectly into its surroundings. The decor is traditional Tahitian style, with hardwoods, pandanus roofs and lush garden landscaping. A wide variety of rooms are available including overwater and beach bungalows on the lagoon side of the property. Across the road, there are air-conditioned rooms in three, two-story buildings nestled into the lush mountainside and overlook the crystal clear lagoon. All the rooms have refrigerator, telephone, TV, hair dryer and in-room safe. Facilities include a restaurant, bar and boutique.
Published Room Rates*: $340 to $745 per night

*Pay less than published room rates with eTravelBound!